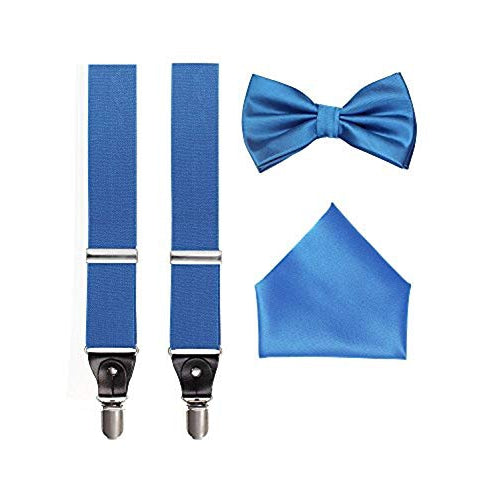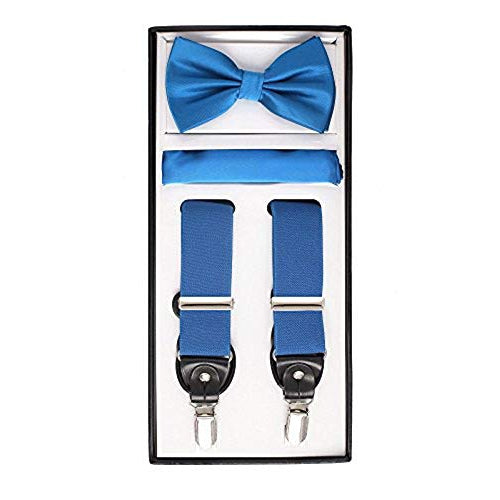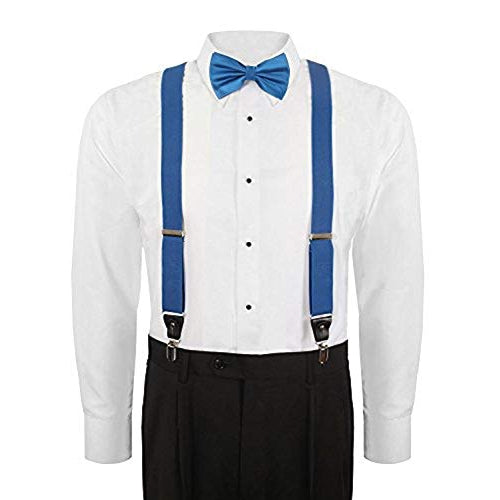 Men's 3 Piece Suspender Set - Includes Suspenders, Matching Bow Tie, Pocket Hanky and Gift Box - Royal Blue
Description
Features:
Clip closure
VERSATILITY, STYLE, AND CONVENIENCE - Cutting out the hassle of having to shop around to complete a look, this handsome men's accessory set features a classic pair of Y-back suspenders or braces as they are often called, a 4 1/2' wide pre-tied satin bow tie, and a matching pocket square for everything you need to add the finishing touches to any casual or formal ensemble. Timeless in style, each item looks great whether worn in combination with each other or matched with other accessories.
CONVERTIBLE WEAR, ADJUSTABLE FIT - With the option to wear the suspenders either by using the Mylar clip to attach them to your pants, or by fastening them to a suspender button using the detachable button on loops provided, they work well with most any pair of pants.
GREAT COLOR SELECTION - Featuring a great range of colors that travel the spectrums of light to dark and bright to subdued, this suspender, bow tie, and pocket square set is wonderfully well-suited to adding the perfect finishing touch of color and flair to any ensemble.
NOT JUST FOR FORMAL WEAR - There's no reason to limit yourself to wearing these suspenders with a tuxedo—they're also an awesome way to boost the texture and the color of everything from suits, to dress pants, and even to a pair of jeans. The sky is your limit...
EXCEPTIONAL VALUE - Affordably priced but not cheaply made, this three piece set is a perfect way to add a fresh splash of color to your tuxedos, suits, and everyday looks without also denting your wallet.
Shipping Info
Standard delivery time for orders within the U.S. can be between 1-5 business days. Delivery time varies depending on your location within the United States. Express shipping options are available on checkout.
Return Info
We will gladly accept the return or exchange of any unworn, unaltered garment with tags intact within 30 days of purchase.
Men's 3 Piece Suspender Set - Includes Suspenders, Matching Bow Tie, Pocket Hanky and Gift Box - Royal Blue